Which 'Love Is Blind' Couples Are Still Together After Season One Finale?
It's been a years since Netflix's Love Is Blind finally concluded its "experiment," bringing to an end three weeks of drama, tears, and, of course, the pods! In the season one finale, each of the remaining engaged couples met at the altar to either say "I do" or publicly end their relationship in front of a room full of family and friends. ICYMI, only two couples actually got married, but that doesn't mean some of the others aren't back together.
If you're anything like me, you've been stalking the Love Is Blind cast's Instagrams since the show ended to figure out what each of the couples is up to now. Have Gigi and Damian rekindled? How are Amber and Barnett doing in the real world? And will Kenny finally get the love he deserves? (Hint: he does.) The Love Is Blind reunion answered some of those questions, sure, but a source close to the show also spoke to Women's Health exclusively about all your favorite on-screen couples and shared which relationships lasted IRL.
Here's everything you need to know about who stayed together, who remained friends, and who will probably never speak again:
Lauren Speed and Cameron Hamilton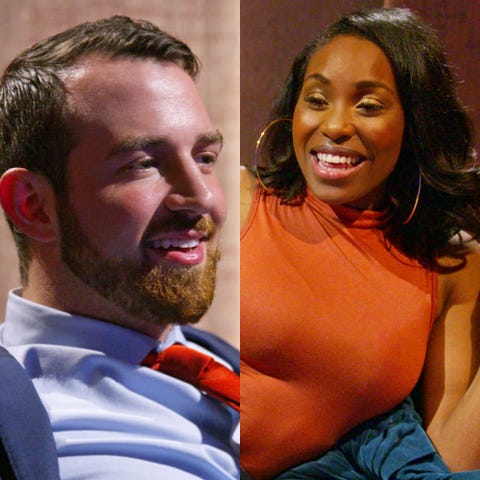 Lauren and Cameron were by far the easiest couple to stan. And if you didn't shed a tear during their wedding vows, were you even watching Love Is Blind? They recently celebrated their second wedding anniversary on Nov. 16, and they're still going strong.
Lauren shared an adorable tribute on Instagram: "Wow 2 whoooole years! We've made it through one of the craziest years of our lives! We came out stronger than ever." The reality TV star also said she's looking forward to 80 more to come.
Cameron is apparently even more optimistic and added, "I love you ❤️ and you're stuck with me for at least 100 more years 👨🏻‍🔬 🤖."
"They're just adorable," a source close to the show told Women's Health of the happily-married couple. And although Lauren's parents were skeptical up until the wedding, they've reportedly come around in the years since. "Their families love them. They're beautiful humans. And they're truly the essence of Love is Blind," the source added.
And it seems coupons are the key to their lasting love… "If you want to keep your marriage fresh, ladies and gents, make a little love coupon book," Lauren told People.
There have also been talks about a Lauren and Cameron spinoff show. "There's definitely discussions," the source said. Production is reportedly looking at similar shows for inspiration. In the meantime, the couple hosts their own Youtube series, Hangin' With the Hamiltons.
"In this channel we are going to talk about everything in our lives, the different elements that make them up," Cameron said in the couple's intro video. "Whether it's our family, our friends, dinner, drinks, cocktails, you know what I'm talking about."
They'll also be including their dog, Sparks, in the episodes, as well as addressing tougher topics like the challenges of being in an interracial marriage. "We're just going to talk about it from our realest perspective," Cameron explained.
This content is imported from Instagram. You may be able to find the same content in another format, or you may be able to find more information, at their web site.
Amber added her own super steamy beach photo to mark the milestone on the 'gram. She wrote: "Two years ago today since we officially said 'I do'… and I still can't keep my hands off you! Happy 2yr Wedding Anniversary to my frustrating-crazy-sweet-handsome hubby. I LOVE YOU."
This content is imported from Instagram. You may be able to find the same content in another format, or you may be able to find more information, at their web site.
Jessica Batten and Mark Cuevas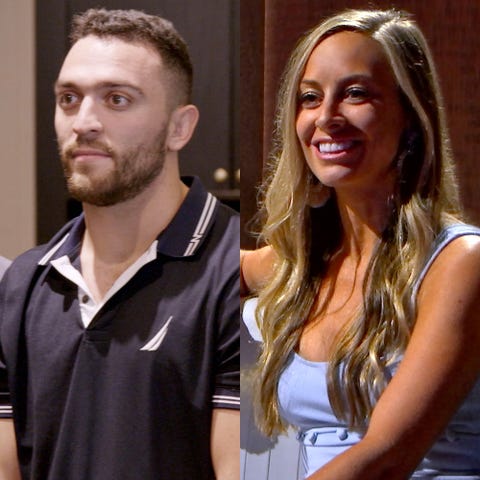 Have you ever seen the movie He's Just Not That Into You? Clearly, Mark hasn't. His relationship with Jessica was off the entire show, from the pods to the day he (and only he) said, "I do."
"He was always far more committed to her than she ever was to him," the Love Is Blind source told Women's Health, which is obviously true having watched the finale. According to the source, Jessica "really struggled with the Barnett storyline."
Since filming both Jessica and Mark bounced back with new Instagram official relationships.
Jessica was first to debut her new romance with Benjamin McGrath, MD, in a July 4th post. She wrote in the caption: "Freedom isn't free. I'm thankful to be able to follow my heart and choose my own happiness. I hope you all do the same!!! For those who have asked, this is why I would do it all over again ☀️ 🌈."
She added more details in the comments, revealing that she and the doctor have been dating for four months: "We've been hiding out during quarantine haha!" FYI, McGrath is a foot and ankle surgeon as well as a dad, according to his Instagram bio.
Mark, on the other hand has been on a relationship whirlwind since the show ended. According to People, he was dating Lauren "LC" Chamblin, another cast member from Love Is Blind, in May and June 2020. But the two broke it off when Mark was caught cheating through a Reddit post LC found titled, "My close friend's co-worker is dating Mark!!"
Jessica responded to an 
E! News Instagram post 
about Mark's relationship with LC, responding to a commenter that Mark has a history of cheating. "Mark was sleeping with multiple women at the studio he trained at during the show. Maybe show those interviews with his workers next time @Netflix," one commenter wrote. Jessica hopped in to reply, "Wow. News to me. I only knew about one."
But since the cheating scandal, Mark announced he was dating a new girlfriend, Aubrey Rainey, on July 6—just two days after Jessica's relationship announcement. And apparently, things are going well between the couple. Mark just posted a pregnancy announcement on Instagram on October 26. "Baby Cuevas 4.29.21," Mark captioned the photo.
Amber, Damien, Barnett, Giannina, and Kenny all hopped in the comments section to congratulate their former Love Is Blind cast member. No well wishes from Jessica yet.
Kelly Chase and Kenny Barnes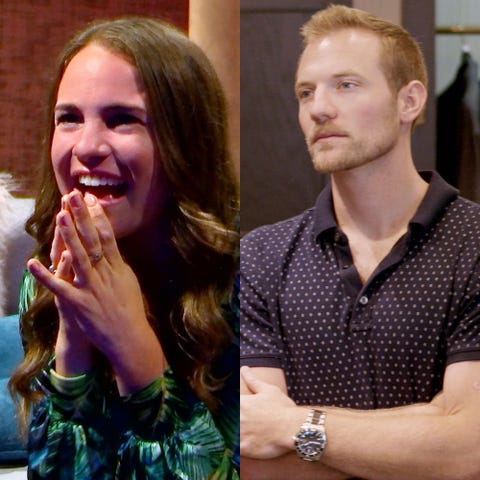 Surprise, surprise—one of the most stable couples throughout the entire show didn't actually end up together (😱). If you've seen the final episode, then you know Kenny said yes to forever and Kelly said no, leaving him stranded at the altar to give a beautiful, yet awkward, speech to his family and friends.
But according to the former couple, they never *actually* planned on getting married. In a interview with ET, Kelly and Kenny said they mutually decided to say "I don't" before the wedding. "What's not shown is that she and I had conversations multiple times," Kenny said, noting that cameras were there. Those conversation just never made it on to the show (hmmm…).
"We were adamantly not going to get married. That was never something that we were going to do," Kenny explained. He added that the two really viewed the whole experience as an "experiment," and they were "just doing the best to follow along with it."
Since then, both Kenny and Kelly have moved on. In fact, Kenny recently announced his engagement on Instagram to someone new. He captioned the photo, "Fiancé has a nice ring to it…💍Alexandra and I are excited to announce our engagement! To all of our friends, family and acquaintances, thank you for the continued love and support – we appreciate everyone and cannot wait to celebrate this next step together."
happiness Kenny!!!! Sending you both love and light! Hope to meet her someday!"
Unlike Kenny and Kelly's romance, Kenny and his new beau didn't meet through reality television, but rather the old fashioned way—through a mutual friend. Or in this case, Kenny's sister, per People. The two had been dating a little over a year before the proposal, and Kenny told People he knew she was the one after a summer trip to Lake Gaston. "We talked for at least six hours and ended up falling asleep on the couch upstairs. It was then that I knew we were on the same page and that we were meant to be." Congrats, Kenny! As for Kelly, it looks like she's single right now and focusing on herself and her career.
Giannina Gibelli (Gigi) and Damian Powers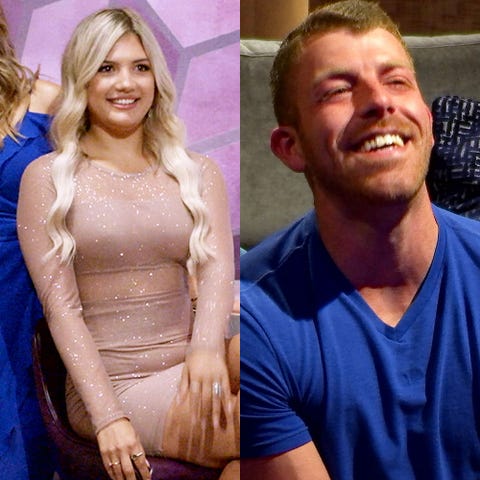 Tbh, Gigi and Damian's relationship was super volatile throughout the season (they may have even given The Bachelor's Peter and Victoria F. a run for their money…). But according to the show's source, everyone close to the show assumed they'd both say yes on their wedding day. Instead, Damian told Gigi she wasn't "all in" during most of their relationship, and the two ended it on camera.
But, apparently, things changed after the finale. "Once the cameras went away, they ended up regrouping and talking and [now] they're like 'We love each other; We just don't need to be married right away,'" the source said. A year and half after the show originally filmed, Gigi and Damian are reportedly dating again. The couple confirmed this on the reunion episode of the Love Is Blind.
And according to an interview with ET, the couple only stayed broken up for a few hours(!!). "After the wedding, I felt like we weren't done. There was still some unfinished business. So I reached out to him a couple hours afterwards," Gigi said. "I was just like 'I need to know what happened.'"
When asked if they would be getting married again anytime soon, Damian told ET, "It's not off the table. But I want to make sure it's done right, it's done beautiful and this time is the last time."
Carlton Morton and Diamond Jack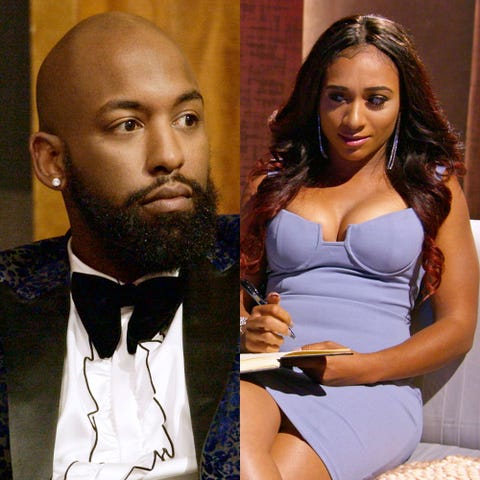 Carlton and Diamond's breakup was tragic. These two didn't make it past Mexico after Carlton revealed to Diamond that he was bisexual and had previously been in relationships with men. Eventually, everything came to a head with one explosive fight filled with every four-letter word you can imagine.
The two haven't done much talking after the show. But the source said that they recently suggested that they both start speaking again, considering that the show would debut soon and they might have to do interviews together. "So they're talking now, and they're cordial and friendly, which is really nice," the source said. But their relationship status? Single.
Still, the reunion episode left fans confused about whether or not the couple was giving their relationship another shot when Carlton got down on one knee to propose friendship(???) to his ex-fiancé—with his original engagement ring.
"I want to get down on one knee and just apologize again at eye level," Carlton told Diamond at the time. "And I hope that you take this ring again as a significant piece of our friendship and the start of something beautiful without any type of plan."
"I do accept your apology, and I forgive you," Diamond replied.
While the ex-couple seemed to patch things up at the reunion and even seemed to be open to the possibility of rekindling their romantic relationship, Diamond and Carlton are currently not in touch. "They are no longer speaking and, at this moment in time, aren't even cordial," a friend of the ex-couple told Women's Health.
But both Diamond and Carlton spoke to Women's Health for Pride month to reflect on the now infamous fight—detailing what coming out or having someone come out to you on television was really like, how to be a better ally, and what both of them would have done differently.
Related