US President Donald Trump has made his farewell address before leaving office, saying: "We did what we came to do – and so much more."
Mr Trump has still not fully accepted the result of last November's election, which he lost to Democrat Joe Biden.
Mr Biden will be sworn in as president on Wednesday.
Late on Tuesday, Mr Trump issued pardons for rappers Lil Wayne and Kodak Black as well as former Detroit Mayor Kwame Kilpatrick.
He is expected to issue dozens more pardons and commutations in his final hours in office, including his former adviser Steve Bannon, according to US media.
On the eve of his inauguration, Mr Biden led a national tribute to the 400,000 Americans who have died of Covid-19.
At sundown on Tuesday, 400 lights were illuminated in front of the Lincoln Memorial in Washington DC to honour those who have lost their lives to the disease.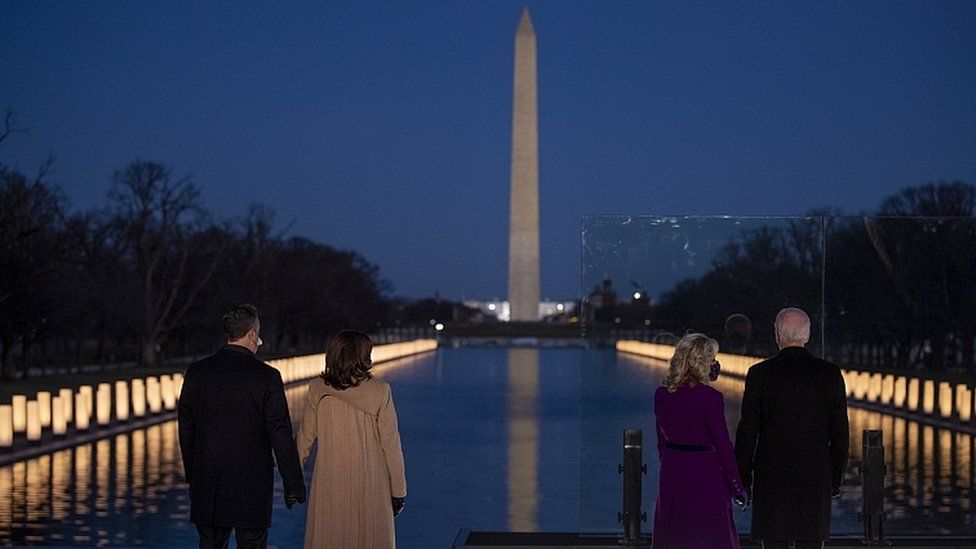 The last two weeks of Mr Trump's term have been dominated by the fallout from the deadly riot on Capitol Hill, when a mob of his supporters stormed Congress, seeking to overturn the election result.
"Political violence is an attack on everything we cherish as Americans. It can never be tolerated," Mr Trump said in his video, in which he did not acknowledge his successor by name.
What else did Trump say?
Mr Trump himself has been impeached for "incitement of insurrection" over the attack and will face trial in the Senate after he leaves office. If convicted, he could be barred from standing for public office.
He is the first president in US history to be impeached twice. At his first trial, he was cleared on charges relating to dealings with Ukraine by the majority from his own Republican Party.
In his message, Mr Trump said his administration built "the greatest economy in the history of the world".
US stock markets have rebounded from the coronavirus pandemic, with the tech-heavy Nasdaq index up 42% in 2020, and the wider S&P 500 up 15%.
However, the rest of the economy is facing more of a struggle. Employers cut jobs in December, ending a string of job gains. Retail sales have dropped in recent months, while jobless claims rise.
"Our agenda was not about right or left, it wasn't about Republican or Democrat, but about the good of a nation, and that means the whole nation," Mr Trump said.
He leaves office with an approval rating of 34%, a record low for a departing president.
Meanwhile, President Trump is expected to use his final hours in office to issue up to 100 pardons and commutations.
Those pardoned late on Tuesday were rappers Lil Wayne and Kodak Black, who have both been prosecuted on weapons charges, and Kwame Kilpatrick who is is serving a 28-year prison term on corruption charges.
Donald Trump, in his 20-minute pre-recorded farewell speech, said his administration did what it came to do and more.
One can debate the significance of his accomplishments – whether 400 miles (640km) of rebuilt border wall, tax cuts, regulatory rollbacks, confirmed judges, trade wars and modest Mid-East diplomatic agreements amount to much in the way of substantive achievement.
But at least in one way, his boast is certainly true. Trump ran for president in 2016 to shake up the existing political order. He campaigned as an outsider giving voice to those who distrusted the establishment and felt the system no longer worked for them.
"I took on the tough battles, the hardest fights, the most difficult choices because that's what you elected me to do," he said.
The unrest and resentment that Trump rode to the White House crested and crashed on the US Capitol two weeks ago, leaving behind wreckage – literal and metaphorical – that will take time and effort to clear.
After four years of shattered norms and traditions, of turning expectations of presidential behaviour on their head, Trump leaves US government changed – fundamentally and, perhaps, irreversibly.
That, at least, was a promise made and a promise kept.
How is Biden preparing for office?
Mr Biden and his wife Jill Biden left their home state of Delaware on Tuesday to return to Washington, where the incoming president served as a senator for 36 years before becoming vice-president to Barack Obama from 2008 to 2016.
"When I die, Delaware will be written on my heart," he said in an emotional farewell speech.
On Wednesday, he will go to the White House and then the Capitol for his inauguration at 12:00 (17:00 GMT).
This will be an inauguration like no other: Washington is under heavy security after the Capitol riots, with thousands of reserve soldiers from the National Guard deployed and metal fences around the White House.
Only a limited number of people will be allowed on to the National Mall to witness his swearing in, in contrast to the hundreds of thousands who usually attend.
Among those staying away will be Mr Trump. He flies to Florida on Wednesday morning – the first president to skip his successor's inauguration since Andrew Johnson in 1869.