Voters will return to the polls in March, just 12 months after the last round.
Two previous elections were inconclusive, resulting in a rare government of national unity.
Prime Minister Benjamin Netanyahu, on trial for alleged corruption, is hoping to return to office for a sixth time.
He denies the criminal charges against him, dismissing them as politically motivated.
At midnight (22:00 GMT Tuesday), Israel's parliament, the Knesset, was automatically dissolved as required by law after a deadline to pass the 2020 state budget expired.
An 11th-hour attempt to avoid this failed after a bill to allow more time was voted down, against expectations.
Hours before the midnight deadline expired, Mr Netanyahu, leader of the right-wing Likud party, and his political rival Benny Gantz of the centrist Blue and White, blamed each other for the crisis.
"I did not want this election," Mr Netanyahu told reporters. "Likud did not want this election. We have voted again and again against elections. Unfortunately, Benny Gantz reneged on his agreements with us."
He said Likud would "win big" at the poll, due on 23 March.
Mr Gantz said the prime minister's remarks were "more lies than words". He said Mr Netanyahu wanted to trigger the election in a bid to avoid his corruption trial.
The two men have shared power since April in an uneasy coalition, agreeing to rotate as prime minister, with Mr Netanyahu holding office first before a scheduled handover to Mr Gantz in November 2021.
Analysts say the dispute affords Mr Netanyahu a favourable way to end the coalition due to a loophole in the pact under which the premiership would pass to the other leader for an interim three months if either party triggered elections, apart from in the case of failure to pass the budget.
Recent polls indicate that support for Blue and White has collapsed, and while backing for Likud has dipped it would theoretically return as the largest party.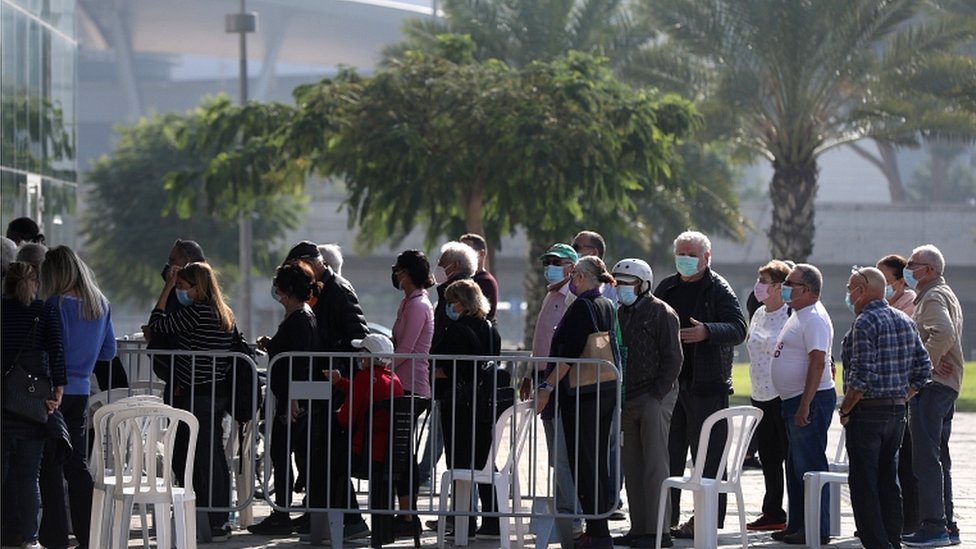 However, Mr Netanyahu is under considerable pressure, with weekly street protests against his rule, the pending resumption of his trial in February, and the continuing struggle to curb coronavirus infections across the country.
Some analysts say he wanted an election before having to hand over power to Mr Gantz, but would have preferred it to be later than March. That would have given more time for his vaccination campaign to unfold and for the economy to pick up.
Mr Netanyahu is also facing a new political challenge from a former Likud MP, Gideon Saar, who has formed his own right-wing party which stands to peel votes away from Mr Netanyahu's political base.